Last month, I selected 10 films that inspired me to make Hyphen. They all have themes, causes, aesthetics akin to our film. Enjoy! ~ M

#10 PINA by Wim Wembers
"I come from a dance background and feelings/emotions can be so heavily expressed through dance. With no dialogue throughout the film, nothing is ever really needed to be said; the dancers' physical exertions are enough to demonstrate what the inside is. Pina is a treat for the senses."
#9 ACROSS THE UNIVERSE by Julie Taymor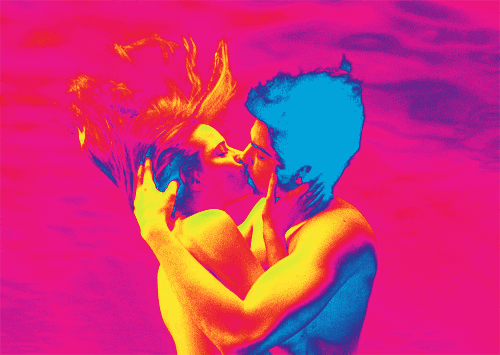 "It's got singing and dancing and a female director! A lovely surreal presence in this film. Also, The Beatles soundtrack? I was sold."
#8 BARRY by Vikram Gandhi
"It was the moments of outsider solitude that really connected me with this film. There are many internal struggles a young half-black/half-white Barack Obama goes through in this film that can be told with just the actor's eyes. It was influential in the visual aspects I got inspired by for my characters trying to figure out their place in the world." 
#7 SPIRITED AWAY by Hayao Miyazaki
"It's one of my favorite animated films of all time. I love the aspects of other worlds invisible to our own and things not being what they appear to be. There is a constant morphing of forms and characters and I hope to be able to take viewers to equally beautiful secret worlds." 
#6 AN OVERSIMPLIFICATION OF HER BEAUTY by Terence Nance
"The animated daydreams mirror my own and our characters'. Mixed media is always fun to work with!"
#5 MOONLIGHT by Barry Jenkins
"It should be higher up on the list but I purposely saw this film after I wrote my script so it wouldn't be influenced by it. However, upon seeing it, I was happily surprised at the similarities that come from the grievances of characters in both stories stuck in hyphens. Stories that come from the darker parts of your heart are the scariest to write, but then become the most beautiful when others feel them too."
#4 ETERNAL SUNSHINE OF THE SPOTLESS MIND by Michel Gondry
"My favorite director. Everything is a haze and confusing and selective in regards to memories. Your brain decides what it wants to hold onto. I'm lucky to be able to remember the good and bad of my own memories and tell them to others in the vivid details I still remember them as. Some of my memories just happened to have such strong vividness that they needed to escape into film."
#3 AMÉLIE by Jean-Pierre Jeunet
"I've, too, had moments where I felt like I melted away into water. Watching Amelie was one."
#2 GARDEN STATE by Zach Braff
"The soundtrack, the oddball personalities, the simple small town. These are some of the aspects of the film that speak the most to me. Braff's character of being a big fish in a small pond but afraid to go into the ocean is what takes this film to its height." 
#1 I'M NOT THERE by Todd Haynes
"'All I can do is be me, whoever that is.' - Bob Dylan. We all go through different metamorphoses throughout our lives. Some are so intense, you can feel like you were different people in prior parts of your life. But your spirit will always be there. This is the essence of Hyphen. "
Please reload